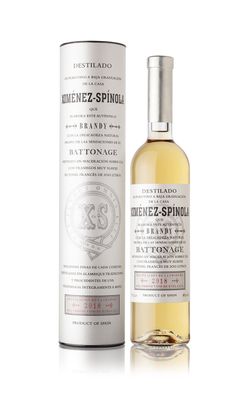 Ximenez Spinola Brandy Battonage 2018 - 700ml
Ximenez-Spinola
$150.00
Tasting Notes
VISUAL: Very light straw gold, clean and bright, subtly oxidized, but without the typical iridescence of old age typical of the soleras system. Visually it transmits a lot of purity of origin, since there are not even rims that are easily identifiable, nor noticeable differences in tone in the glass, both with the glass still and in rotation.
OLFATIVE: A standing glass is a clear distillation with the aromas of the wine that gives rise to it. There are notes of ripe plum but not raisined. By rotating the glass, memories of green apple arrive, without the alcoholic volatility unbalancing the exuberant and clean fruity manifestation of this very particular distillate.
GUSTATIVA: The obvious manifestation of its alcoholic degree, it does not detract in any way the fruits that are enhanced in the back of the palate, as well as the volume in the mouth acquired with the battonage of lees. The aftertaste is long, although very delicate and subtle. Nothing heavy, nice and extremely silky.
100% Pedro Ximenez
3 x 700ml bottles per case/ Alcohol 40%
YOU MUST BE 18 YEARS OLD OR OVER TO ORDER WINE OR SHERRY FROM THE ONLINE SHOP
SKU: 10019-1